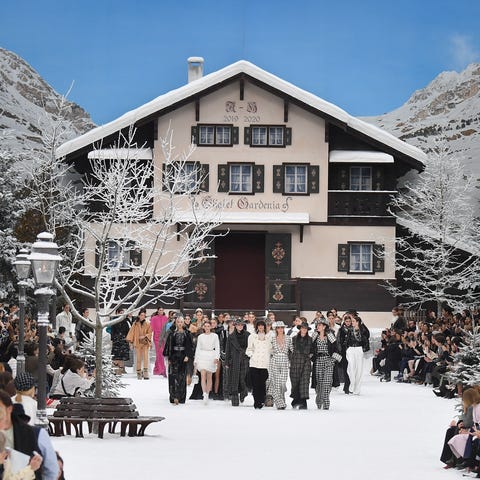 Taking place at the Grand Palais in Paris on Tuesday 5 March, Karl Lagerfeld's final Chanel show was set against a winter wonderland.
The detailed alpine set for the fall 2019 collection was nothing short of stunning, and featured the runway debut of actress Penélope Cruz.
Celebrity attendees and models of the momentous show included Cara Delevingne, Kristen Stewart, and Soo Joo Park.A momentous morning for the iconic fashion house, Chanel opened its catwalk on Tuesday at the Grand Palais in Paris to a picturesque winter wonderland, where models including Cara Delevingne, Kaia Gerber and Penelope Cruz displayed the fall 2019 collection in the late Karl Lagerfeld's final show.
Lagerfeld, known for his always spectacular runway displays, this time opted for an alpine setting, which transported guests to a snow-covered hideaway surrounded by frosted mountains, icy trees and dreamy lodge chalets.
The scene was complete with Chanel skis, a dusted snow catwalk, and even faux smoke billowing from the chimneys.