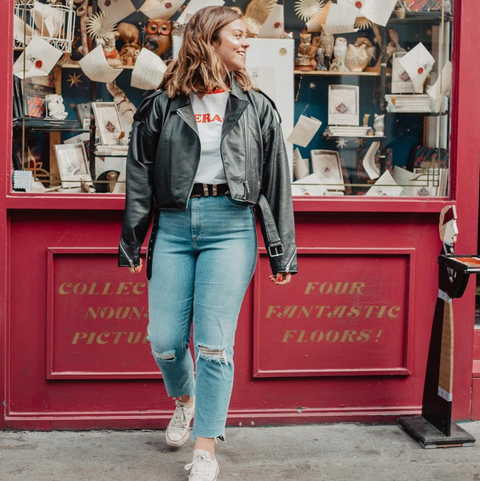 In our biweekly series, editors share "the item they wear to death," whether it be a basic white tee or a super-trendy jumpsuit. Prepare yourself (and your credit card) for some guilt-free shopping.
As much as I was really into my inflatable furniture, extensive Beanie Baby collection, and Spice Girls-esque union jack dress, the sad truth is that I was born in the wrong decade. Despite being a fully-fledged '90s baby—arriving into Liverpool, England, during the golden age of 1991—I should have categorically been around in the '80s. Like, I'm actually kind of mad about it.
At least, that's if my taste in fashion is anything to go by.
Whether from passionately raiding vintage stores to find hidden, previously loved gems, or just literally typing "80s" into ASOS and hoping for the best, I've amassed a small collection of slightly retro styles. It's become my go-to look. There's something about the era that's just painfully cool and, while I, myself, am about as cool as the inside of a freshly microwaved hot pocket, adding an 80s influence to my every day outfits is a great way to conceal that fact.
Luckily for me, it's never been easier to look like a member of Bananrama than since purchasing my baby. I'm talking about my ASOS oversized leather jacket, or the jacket of my dreams, as I like to refer to it in casual conversation. Sure, paying almost £100 for it left me clutching at my internal organs, but the cost per wear of this bad boy is probably down to about three pence by now (about four cents to you Americans). Barely a day goes by that it's not on my body, and barely a day goes by that a stranger doesn't ask me where I got it.